The rare whisky market continues to soar even during a global pandemic, On March 18 in London, Sotheby's achieved a new auction record, selling a bottle of Karuizawa 52- Year- Old Zodiac Rat Cask #56271960 for $435,273 (£363,000 ) to a private collector in Asia, well exceeding its pre-sale estimate of £160,000-220,000.
 So, what makes fine Japanese whisky such a collectible spirit?
We asked Makiyo Masa, founder of dekantā, the world's leading online retailer, which sells more than 2000 types of Japanese whisky as well as shochu, sake, other spirits and wines. Masa grew up in a family distilling business and launched dekantā in May 2015 with the goal of filling a gap in the retail market specializing in Japanese whiskies.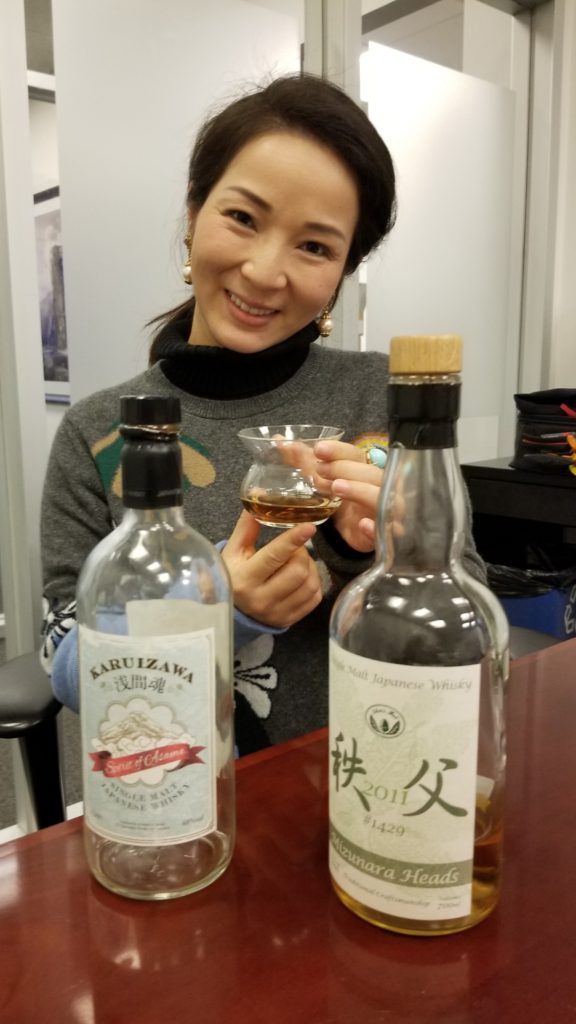 TCT: Makiyo, what sets Japanese whisky apart?
"Japanese whisky has its own sense of place, from water to earth. The Japanese tradition is to pursue the best with an idea for fine details. That is what makes Japanese whisky truly special." There are many special small distillers that produce great whisky, not just the largest companies. We are always looking for and sourcing the best we can find."
TCT: We understand that online retails sales for wine and spirits are brisk, even during this Spring global pandemic. How is dekantā holding up?
"At this time, we feel very grateful to have developed such a strong online platform with a network of international clients, who we refer to as the 'dekanta family.' We envisage little to no disruption to our online orders and deliveries, and as such we have not been impacted as heavily as other businesses who rely on trading in person. However, our hearts go out to all the bars and restaurants across the globe who are struggling through this pandemic.
"Our top priority is the safety of our customers and our staff. Our staff are working from home wherever possible, and we're handling deliveries with additional measures with regards to hygiene. It has been a logistical challenge, but the team are communicating regularly from their remote working, to keep up morale, and to ensure as little disruption as possible to our regular operations.
TCT:  Sotheby's Auction House in London sold a bottle of Karuizawa 52- Year- Old Zodiac Rat Cask #56271960 for $435,273 (£363,000 ) on March 18. What makes this whisky so special?
"This is a truly spectacular bottle, and it is very exciting to see this new bottle breaking a record previously held by the Yamazaki 50- Year Old. We have seen huge demand from our most ardent collectors for rare and old bottles of Karuizawa whisky. The Karuizawa distillery produced liquid with a notably rich and sherry flavor before it was forced to close its doors in 2000. The remaining casks were sold to private individuals, who have been bottling the liquid independently as spectacular limited editions in recent years. As a result, the distillery has developed something of a cult status among Japanese whisky aficionados."
TCT: Has dekantā sold a similar bottle?
"It's highly likely that we will have sold one of these bottles to a client through our concierge service, by which we source the most rare and highly sought after bottles of Japanese whisky. The most expensive bottle set that dekantā has ever sold to a single client is a collection of rare Karuizawa bottles totaling over one million dollars. It is an extensive collection of over 270 bottles, with distillation dates ranging from throughout the distillery's brief history."
TCT: Well, we feel very lucky since you brought us a bottle of Karuizawa Spirit of Asama Single Malt to try. Tell us about it.
 "The Karuizara Spirit of Asama s a very rare and delicious single malt whisky with a lower proof, just 48 percent. It is very hard to find on the market today anice, as I noted, this legendary distillery closed in 2000. Only 400 casks were left."  – Suggested retail price: $2,400m /70 cl bottle. Info and to purchase
TCT: The other single malt your brough is from Chichibu, a small distillery of only nine employees.
"Mizunara Heads 2011 is a higher proof single malt whisky named from the type of porous wood  from the Mizunara tree used to make the casks, a process that can take 200 years . " – Suggested retail price: $2399 Info and purchase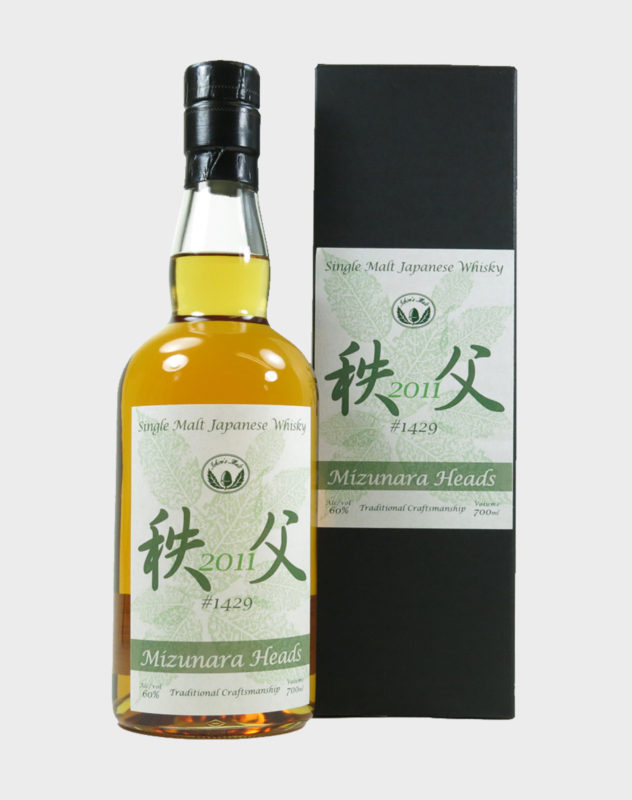 Listen to The Connected Table SIPS with Makiyo Masa, dekantā, on Japanese Whisky
Japanese master distillers are known for their pursuit of perfection. Rare bottles of whisky can command thousands of dollars at auction. But buying a bottle for home or gifting is easy thanks to dekantā, the world's leading online retailer, which sells more than 2000 types of Japanese whisky as well as shochu, sake, other spirits and wines. Makiyo Masa, founder of dekantā, explains what makes Japanese whisky special and why you should consider a bottle on your spirits shelf. www.dekanta.com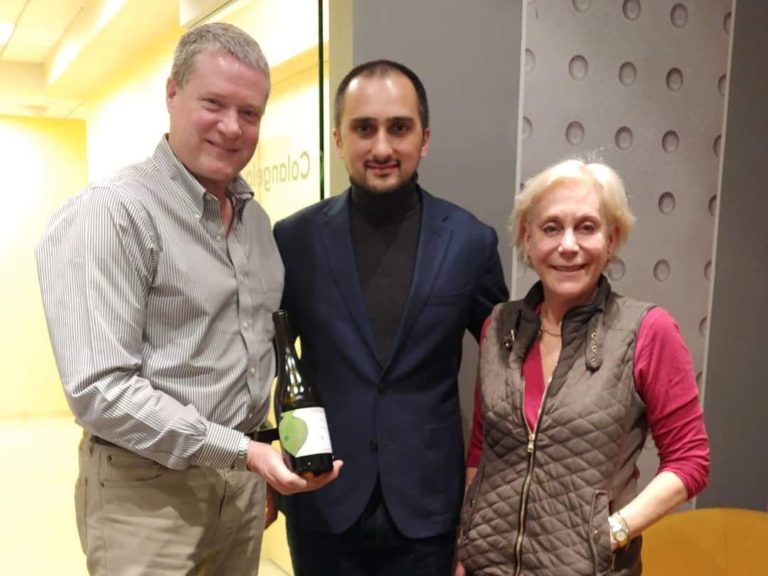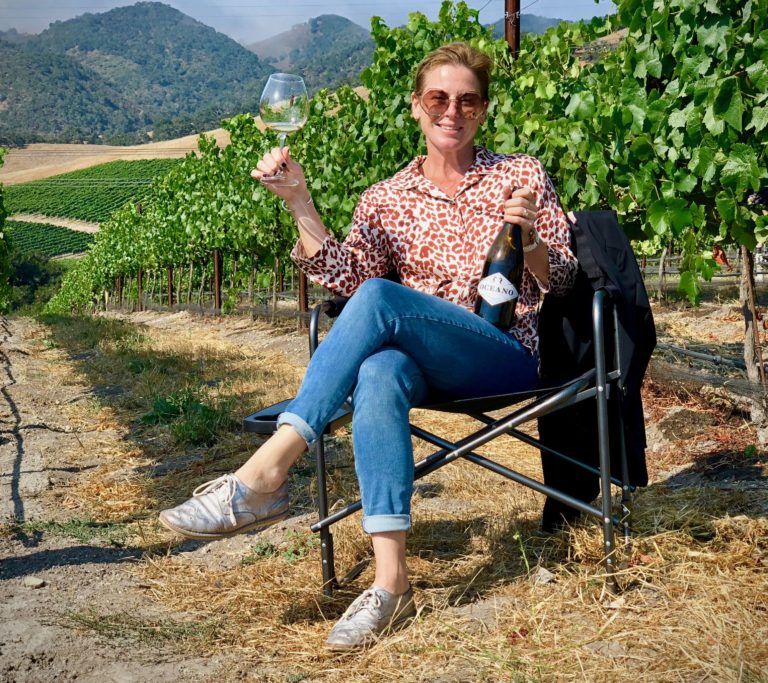 Rachel Martin and husband, Kurt Deutsch, are founders/owners of Oceano Wines, single vineyard cru wines sourced from the Spanish Springs Vineyard in San Luis Obispo, California. Oceano's second release Chardonnay 2017 has earned national awards and critical acclaim. In 2019 Oceano released its first Pinot Noir, vintage 2018, to rave reviews. We recently had the chance to sit down with Martin for a first taste and catch up.
Launching a wine brand takes marketing savvy. Martin earned her cred working with her family's Boxwood Estate Winery in Middleburg, Virginia.  While Oceano Wines is pure coastal California, Martin and Deutsch call New York City home base. He is a Grammy Award- winning and has worked on cast records for hit shows including The Band's Visit, The Book of Mormon, In the Heights, and Beautiful.
Martin is active in many causes to support women, including Les Dames d'Escoffier International.   Sixty percent of every dollar spent in the production of Oceano's wines goes to women- and minority-owned businesses.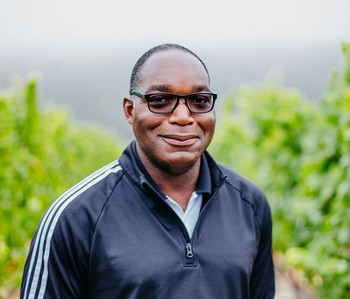 Fun fact: Oceano's winemaker, Marbue Marke, grew up in Sierra Leone, Africa. Originally he planned to become a doctor enrolling at University of California-Davis, with an eye toward medical school after college. he ended up switching careers to study enology.
Why we love these wines:
These are wines with fruity -driven finesse and a clean finish. It's no surprise these wines are popular coast to coast in restaurants. The best way to order your bottles are at www.oceanowines.com
2018 Oceano Pinot Noir, Spanish Springs Vineyard CA - San Luis Obispo County  $45.00/750 ml
Bright ruby color. A layered nose of strawberry, red currant, cranberry, rose petal, fresh tobacco, beet, and vanilla. A red currant attack leads to a focused mouth of pomegranate, raspberry, cherry, rhubarb, and cedar. Silky smooth tannins give way to a bright strawberry finish that finishes long.
2018 Oceano Chardonnay, Spanish Springs Vineyard, CA - San Luis Obispo County $38.00 /750 ml
A bright nose of jasmine, key lime, white peach, honeydew melon, green mango, and peach blossom. A lemon attack leads to a juicy mouth of green apple, quince, nectarines, kiwi, and guava. Notes of kaffir lime highlight the long refreshing finish.
2017 Oceano Chardonnay, Spanish Springs Vineyard, CA - San Luis Obispo County $38.00 / 750 ml
Deep yellow color. Nose bursts with green melon, lemon curd, guava, sea salt, ocean breeze, white tea and honeysuckle. Crisp yet vibrant, lovely texture on a medium/full-bodied frame, but zesty and balanced. Lemon, green apple, melon, tangerine, topped in sea salt, hints of toasted bread, vanilla and ginger.
★ 2019 Critics Challenge International Wine & Spirits Competition Platinum Medal Winner
★ 2019 San Diego International Wine & Spirits Challenge Platinum Medal Winner - Wine of the Year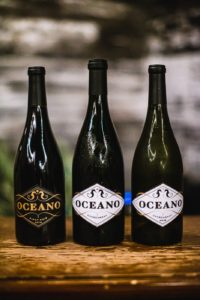 Listen to our SIPS podcast with Rachel Martin:
Throughout the U.S.A. the hospitality and foodservice community needs our support in the wake of the coronavirus (COVID-19) pandemic.
Restaurants, cafes, bars and clubs have served as community gathering places for centuries. They are first to open their doors and service their communities in times of need and a place where we celebrate special occasions from graduations to anniversaries.
We recall how the restaurant community in New York City and throughout the world united to support citizens and first responders and raise funds to help families who lost loved ones during the September 11 terrorist attacks.
Now in the wake of the coronovirus pandemic, our restaurant community needs our support more than ever, especially with so many service workers laid off due to temporary closures and reduced staffing.
In the spirit of support, we are compiling and sharing lists of reliable resources and articles that can help industry workers. Since this is a developing situation, we will continue to update and post resources on our Facebook Page and Twitter.
Journalist Andrea Strong has compiled a list of local and nationwide resources (U.S.A.) to provide relief for laid-off workers for Food & Wine and continues to update it. Read and Share This List
Also by Strong, here is an article in Food & Wine on supportive charitable efforts. Read; Share; Donate
The nonprofit Restaurant Workers Community Foundation has started a COVID-19 emergency relief fund.  Read, Share, Donate  
SupportRestaurants.org is a collective of restaurant industry professionals who have set a national initiative in motion to get funds into the hands of restaurants, even if they are temporarily closed. A Dining Bond works like a savings bond, where you can purchase a "bond" at a value rate to be redeemed for face value (for example, a $100 bond for $75) at a future date. Read more here
The U.S. Bartenders Guild (USBG) has a charitable foundation to provide aid to bar industry workers in need. Info
Many people who work in the industry lack the benefits of full-time employed workers, such as sick pay, unemployment insurance and workers' compensation. The nonprofit Gig Workers Collective has published this state-by-state list of resources to help. Read, share
Other ways to support: Order takeout. Buy a restaurant gift card. Stock up on wine.
Restaurants in New York and elsewhere may be closed to the public, but many are offering takeout and deliveries. Under a recently announced initiative to help businesses, restaurants in New York can also deliver wine, beer and cocktails. Read this Eater.com  article for more info and guidelines.
Other initiatives to support businesses are happening throughout the U.S. but it is still in an unfortunate catch-up mode for those facing job losses. The National Restaurant Association is providing special industry-specific guidance on its website. www.restaurant.org 
A Facebook Hospitality Industry Alliance | COVID-19 group has been established to provide an open forum to support and share ways to help members of the hospitality community. If you need help to join, let us know  Info
The above is a shortlist and continues to evolve. It is also specific to the U.S.A. We know many of our readers and listeners are in Europe. We want to let you know, we stand with you in solidarity throughout the world.
This week's edition of The Connected Table LIVE addresses ways to support our industry. We also discuss food safety when cooking at home. We will resume with scheduled guests on March 25. Click lunk below to listen and stream.
Stay safe. We are all in this together.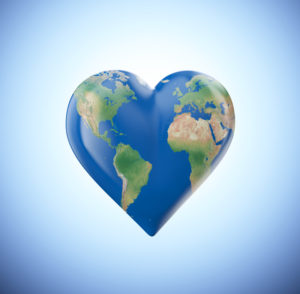 India has a rich heritage in craft spirits and is the birthplace of the gin & tonic. Located in the foothills of the Himalayas, Radico Khaitan is India's oldest and largest distillery. Two of its prestige brands include: Jaisalmer Indian Craft Gin, made with 11 indigenous botanicals and triple distilled in copper pots, and Rampur Single Malt Double Cask Whisky, aged in American Bourbon and Oloroso Sherry casks. Info: www.radicokhaitan.com
What we tasted: Jaisalmer Indian Craft Gin
At first sip of Jaisalmer Indian Craft Gin, we tasted the distinct flavors of coriander and orange peel with a touch of caraway, pepper and anise on the back palate. We'd chill this over ice and add just a slash of tonic or soda.
Jaisalmer Indian Craft Gin's name is inspired from the historic city of Jaisalmer, home to the Golden Fort, a UNESCO World Heritage Site. The "gold" comes from the building's construction of sandstone that casts a golden hue at sunset.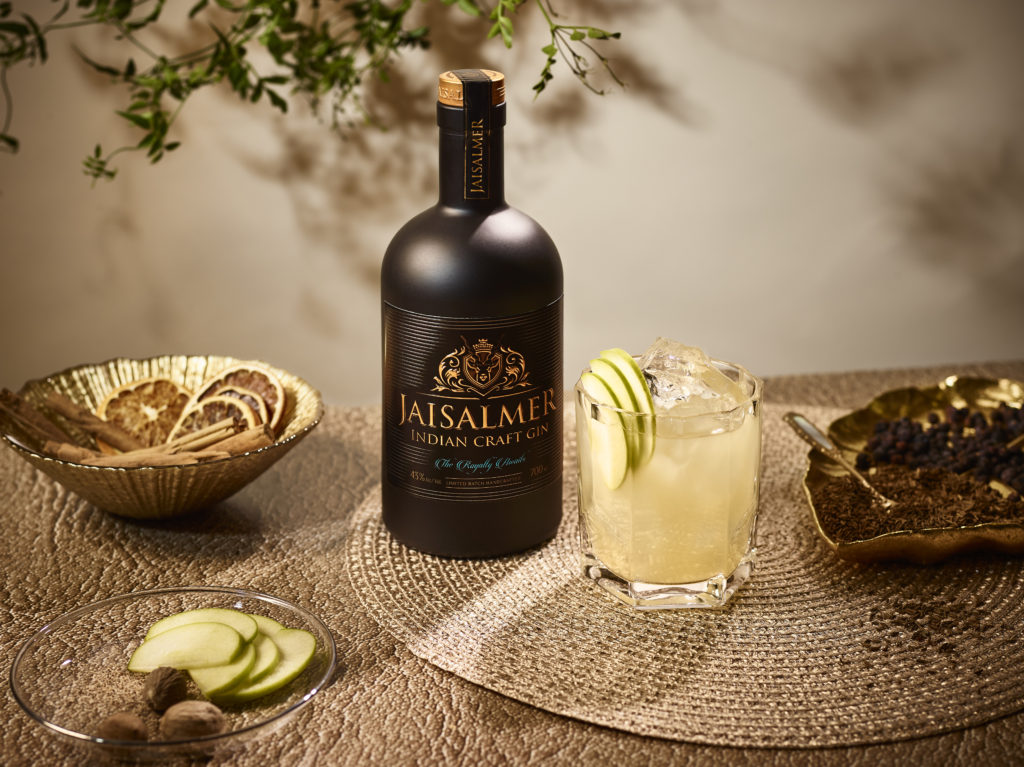 Sipping with Company President Sanjeev Banga
Company President Sanjeev Banga explains how India's biodiversity helps define its styles of spirits and discusses both Jaisalmer Indian Craft Gin and Rampur Indian Single Malt Double Cask Whisky in this edition of The Connected Table SIPS. Here is the link http://bit.ly/TCTSipsRadicoKhaitan 
Or click here to listen: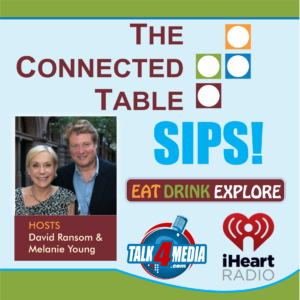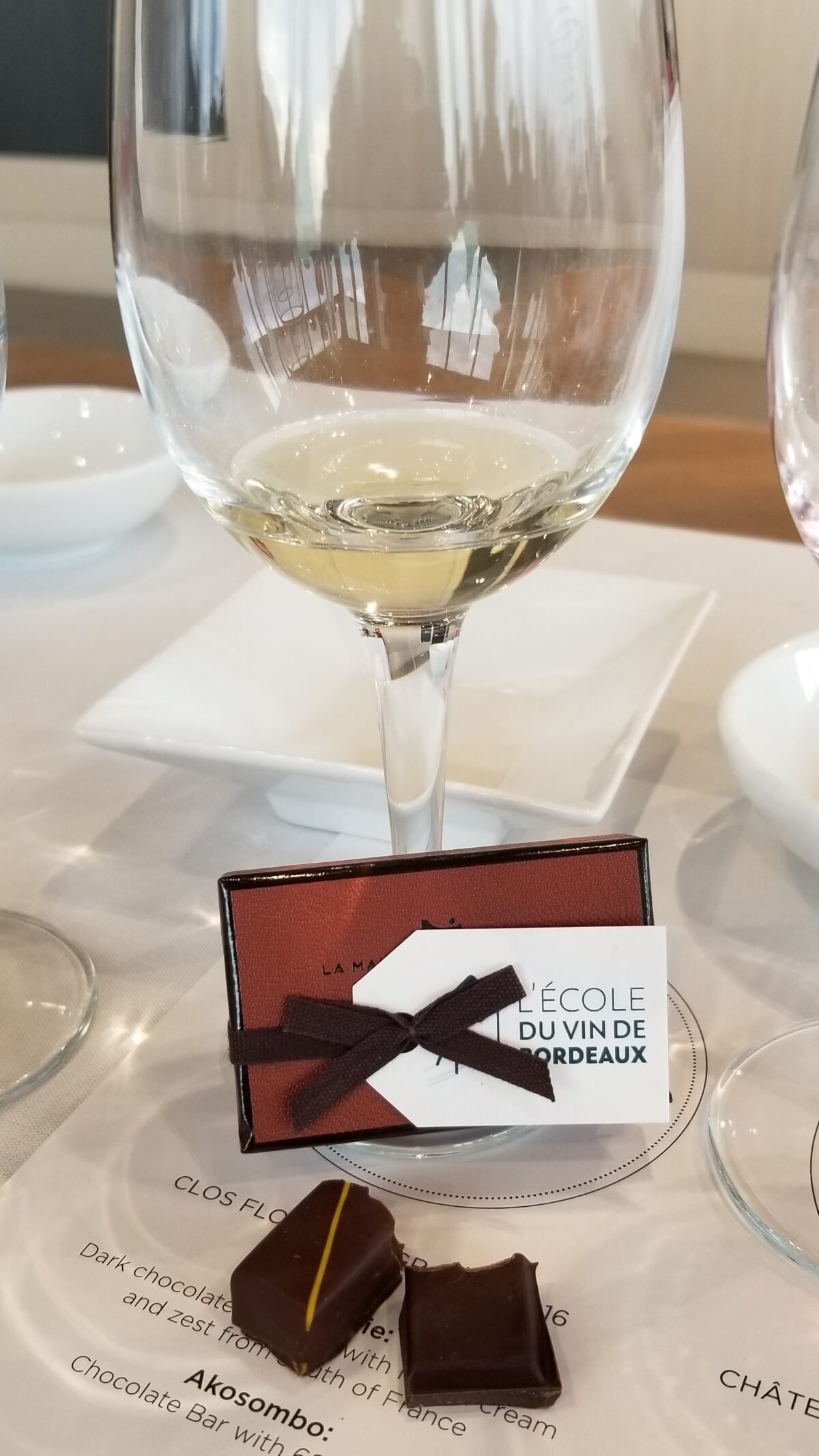 An invitation to a guided tasting of Bordeaux wines with artisanal chocolates from one of France's top chocolatiers is a welcome treat. The tasting and discussion was one of the daylong activities hosted by the the Bordeaux Wine School. Founded in 1989 (yes, celebrating 30 years!) the Bordeaux Wine school educates more than 85,000 people each year through its global network of over 250 accredited instructors. Classes are taught both at the school's center in Bordeaux City and online around the world, offering courses in multiple languages. There is also a mobile app.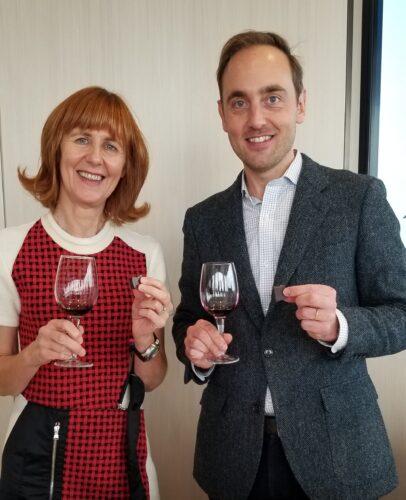 Master of Wine Mary Gorman McAdams, an accredited Bordeaux Wine School instructor, teamed up with Pierre -Antoine Bollet of Maison du Chocolat. The duo had conducted rigorous tastings beforehand to select the wines and chocolates for the session which started with an historical overview and a discussion about the commonalities of both Bordeaux wines and chocolates.
Grapes and Cacao Beans: Similarities
Just as wine is made from varieties of grapes, chocolate is made from different types of cacao beans grown. Terroir plays an important role in cultivating both grapevines and cacao trees. Cacao flourishes in tropical climates; over 70 percent is grown in Africa and 16 percent in Latin America.
Dark chocolate must be made with 43 percent minimum cacao, and milk chocolate is a minimum of 30 percent cacao. White chocolate has no cocoa powder (a heated form of cacao) and is 20% cacao butter and 14% milk. Technically, it is not chocolate. Cru chocolates, like wine, are sourced from single estates.
Both wine and chocolate contain tannins and (red wine) are rich in resveratrol, flavonoids and polyphenols. Both can be good for heart health when enjoyed in moderation. Chocolate contains caffeine, so be careful consuming large quantities at night.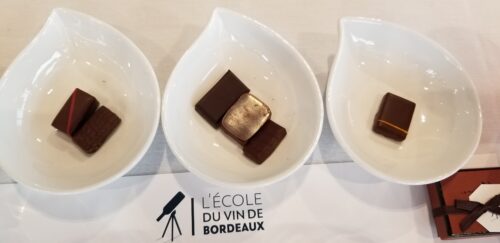 Bordeaux & Chocolate: Three Key Elements to Consider
Gorman McAdams and Bollet explained that fruit flavored chocolate brings out acidity, and wines usually pair best with bittersweet and dark chocolate (with a higher percentage of cacao). They underscored three key elements to consider when pairing wine and chocolate:
Structure

Acidity, sweetness, astringency
Bitterness (phenols/tannins),
Alcohol, sourness

Texture

Light / delicate
Rich / dense

Flavor

Fruity, herbal, smoky, nutty, earthy,
Spicy
The pairing included one wine with two types of chocolate. The first misconception that went out the door was thinking it's all about pairing red wine and chocolate. One of the best pairings was a Clos Floridene, Graves 2016 with a dark chocolate ganache with lemon cream and zest ("Andalousie") from the South of France.
The experience was palate opening and generated an enthusiastic response among attendees.  Second helpings, anyone?
What we tasted
Clos Floridene, Graves, 2016
Andalousie: dark chocolate ganache with lemon cream and zest from South of France
Akosombo: Chocolate Bar with 68% cacao
Comment: The Graves with the ganache with lemon cream left us ready  to try more white wines with chocolate.
 Château Bourgneuf, Pomerol, 2015
Extreme Chocolat: dark chocolate ganache, perfect balance between the acidulous character and bitterness of pure cocoa
Salvador: dark chocolate ganache with raspberry pulp
Comment: The consensus in the room was mixed as to which paired better. We were partial to the dark chocolate ganache with raspberry with the plushness and deep tannins of this wine.
Château Fonbadet, Pauillac, 2016
Noir de Cassis: dark chocolate ganache with cassis
Quito: bittersweet dark chocolate ganache
Coro: Chocolate Bar with 100% cacao
Comment: Hands down the winning pairing was the Noir de Cassis, proving how well tannic wines can balance out creamy ganache.
 Château de Cérons, Cérons, 2009
Maracuja: dark chocolate ganache with passionfruit pulp and juice
Comment: We initially thought this pairing would be overly sweet, but to the contrary, it was a nice balance.
 For more information on the Bordeaux Wine School, visit: https://www.bordeaux.com/us/
Listen and learn more:
In this episode of The Connected Table SIPS, Mary Gorman McAdams, MW discusses The World's Best Bordeaux Wine School
Bordeaux is one of the world's most renowned wine appellations with more than 6000 producers. For 30 years, the Bordeaux Wine School has been the premier education source for learning about Bordeaux. Located in Bordeaux City and online, the school educates more than 85,000 people annually through its global network of over 250 accredited tutors. Master of Wine Mary Gorman McAdams discusses the Bordeaux Wine School's curriculum for both wine professionals and consumers. www.bordeaux.com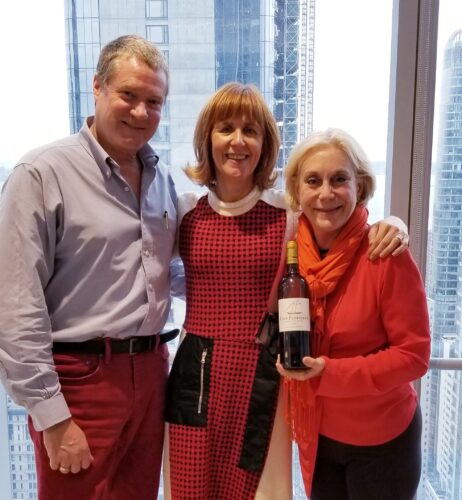 Link to show is here: The Connected Table SIPS
Or click below:
Chef Marc Murphy has one of the most eclectic bios we've ever read. First, he's a nationally recognized chef whose restaurants have included Landmarc and Ditch Plains, each with two locations in New York. Second, he is a regular judge on The Food Network's wildly popular "Chopped" shows in their various renditions. But there's much more to his story than what people see on screen and read in media.
Dig deeper and you learn that this devoted husband to wife, Pamela Schein Murphy, and father to Callen and Campbell, has a little international man of mystique about him. A few examples:
Before the age of 12 he'd lived in Milan, Paris, Villefranche, Washington DC, Rome and Genoa, and he is fluent in four languages. His parents live in Monaco and, get this, Prince Albert was his babysitter! He is still a dual citizen of the United States and France.
He originally wanted to be a race car driver but switched gears (literally) because he didn't have the money to buy a car. Instead, he decided to become a chef and enrolled in the Institute of Culinary Education (ICE). He still loves and rides motorcycles. Melanie once road down the FDR Drive on the back of his Ducati after an event.
He is a fan of opera, the ballet, classical music and hip hop equally. Between jobs in the 1990s, he worked with the choreographer, Jerome Robbins. He believes good scotch should be serve with one ice cube and all meals should be served in the company of good wine and great company.
He is author of Season with Authority: Confident Home Cooking his debut cookbook which was released in April 2015 and continues to be a top seller. Yet, he confesses he can't spell and battled dyslexia as a young boy.
From Hotshot Young Chef to Global Citizen
He was opening chef at Cellar in the Sky at Windows on the World, so having him join us on September 11 is particularly poignant. He later was recruited uptown to serve as executive chef for La Fourchette. Former New York Times Restaurant Critic Ruth Reichl awarded the restaurant two stars, writing that Marc has an "open desire to transform food [so that] in his hands, even a simple green salad … Looks like a ruffled hat in a painting by Renoir."
In 2012 Marc joined the U.S. Department of State's Diplomatic Culinary Partnership, where he takes part in public diplomacy programs that engage foreign audiences abroad as well as those visiting the United States. He has traveled to Italy, China and Turkey as part of this program.
Marc is also involved with numerous industry and charitable organization. He is the President of the Manhattan chapter of the New York State Restaurant Association, both a board member and Food Council member of City Harvest, and a member of the Food + Finance High School's Industry Advisory Board. He sits on the Leadership Council for Share our Strength's No Kid Hungry campaign and has been a national spokesperson for Share Our Strength's Dine Out For No Kid Hungry initiative.
Marc has been a friend who was delighted to offer a supportive blurb for Melanie's debut book, Getting Things Off My Chest which she wrote after surviving breast cancer. As high as his star has risen since we first came to know Marc as a young, motorcycle-riding, hotshot chef, as humbled and grounded he has remained as a caring father, husband and community citizen. We've celebrated many occasions at Marc's various restaurants and are delighted to spend time with him September 11 on The Connected Table LIVE!
Listen to The Connected Table LIVE with Marc Murphy- Click below.
Our August 14 edition of The Connected Table LIVE comes with a southern drawl and a discussion about food that left listeners (and us) drooling, courtesy of  Virginia Willis, author  of "Secrets of the Southern Table" and southern food chronicler.
The South is a delicious hodgepodge when it comes to its culinary heritage and it is one of the most fascinating places to visit because of it. Many customs are rooted in traditions that blend diverse cultures: Irish, Scottish, English, French, African, Hispanic, Vietnamese and Greek, just to name a few. In fact, the upcoming Les Dames d'Escoffier International Conference October 24-27 in Nashville has a seminar focused on sorghum and honey and another on the culinary influence of immigrants past and present in the state of Tennessee. Diversity is the fabric of the south, and it's delicious. Hopefully this unique cultural heritage will endure and achieve greater appreciation.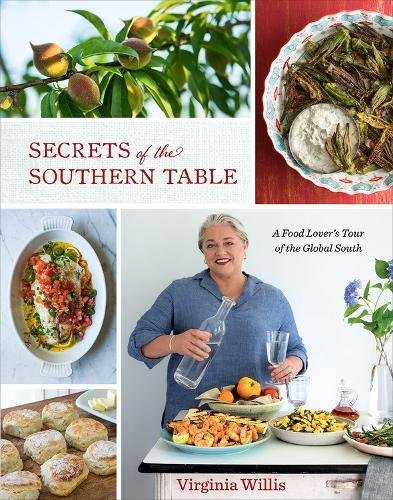 In Secrets of the Southern Table (Houghton Mifflin), Willis introduces us to the farmers, producers and fisherman who supply the foods many of us enjoy at the restaurants throughout the south. Some are multi-generational families; others are (relatively) newer enterprises born from the dedication of immigrants who settled in pockets of the south. It's a culinary tour that runs the gamut from sweet potatoes and grits to gospel birds and game birds to sweet shrimp and sausages. Throughout the book you can't help but ponder about what truly defines "heritage" in the new south. It's a richer place today thanks to the many cultures you find there. We should never take that for granted.
Willis has written cookbooks covering everything from single subjects (okra and grits) to the complete southern table with Bon Appetit Y'all and Basic to Brilliant, Y'all. And then after filling us all up with rich delicious recipes, she taught us how to "Lighten Up Ya'll" with a tailored approach to preparing southern dishes. - trimming the fat without losing the taste. Her  articles and recipes can also be found at her  "Cooking with Virginia" column in Southern Living magazine.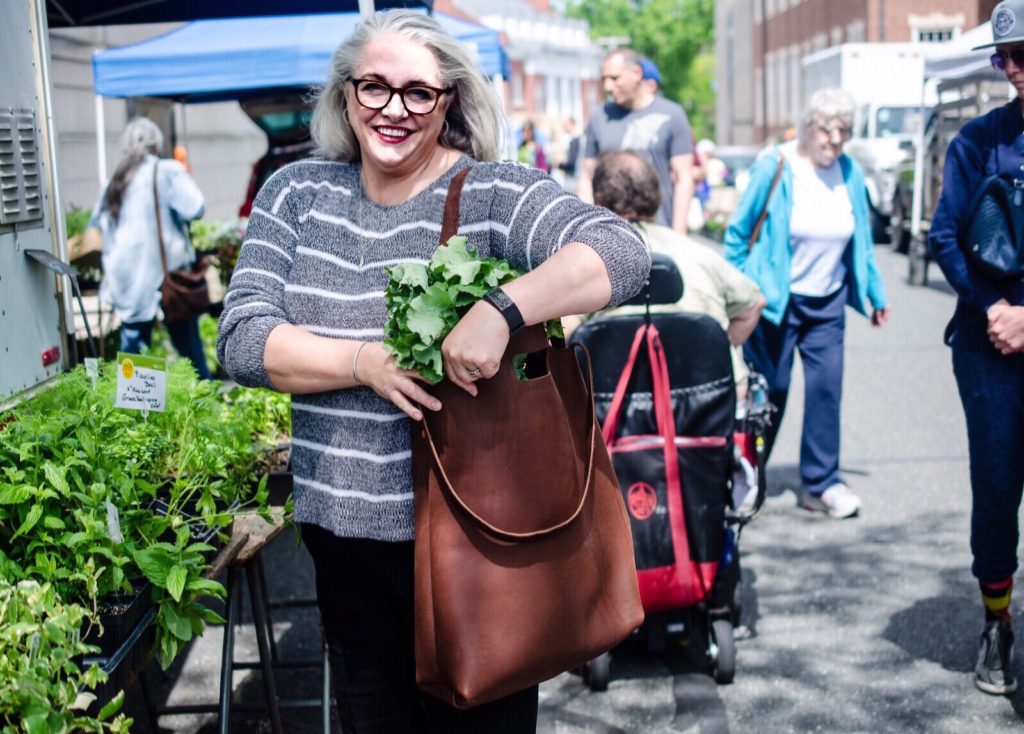 Listen to The Connected Table LIVE with Virginia Willis here. Click image below:
Buy Secrets of the Southern Table Here. Click Image below.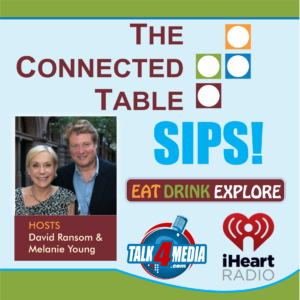 Attention importers and wine and food companies and the talented people who work with them. Let us help you spotlight your brands and programs this Fall and beyond through custom podcasts on The Connected Table SIPS on iHeart Radio and more.
Did you know we'll come to your event to set up an on-site studio to interview your visiting producers?
Did you also know we can interview anyone, anywhere in the world? We're local to New York but global in our broadcasts.
The Connected Table SIPS on iHeart Radio are easy- to-record podcasts that offer a turnkey way for you to get your message out to the people you want to reach.
All our SIPS broadcasts can be found on multiple podcast platforms, including iHeart.com/iHeart App, Apple Podcasts, Spreaker, Stitcher, among others. You can also find us at The Connected Table page on Sante Magazine, one of the food and beverage industry's leading digital trade magazines.
Please show your support by taking a SIP (or a few) with us. Sign up for a custom podcast series and let us share your special story. Email: melanie@theconnectedtable.com and david@theconnectedtable.com (also the email to schedule all show bookings)
We're about to start our Sixth Year at The Connected Table LIVE October 1.
Listen to episodes of The Connected Table SIPS on iHeart here:
Home to some of the world's most sought after wines including Barolo, Barbaresco, Barbera, and Moscato d'Asti, Piedmont is regarded as one of Italy's great wine regions.  Michele Chiarlo Wines, founded by Michele Chiarlo and now run with the help of his sons Alberto and Stefano, has been a leader in the region since 1956.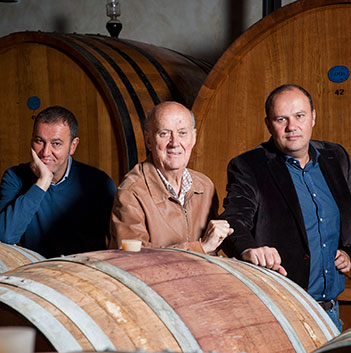 Always family owned and operated, Michele Chiarlo owns vineyards in three of Piedmont's most important growing regions: Langhe, Montferrato, and Gavi, and focuses exclusively on making single vineyard wines. Their vineyard in Cerequio, in the heart of Barolo, is considered one of the finest plantings of Nebbiolo in the region and is recognized as a UNESCO world heritage site. The same is true for La Court, the Chiarlo Vineyard in Barbera, which also caries the UNESCO moniker.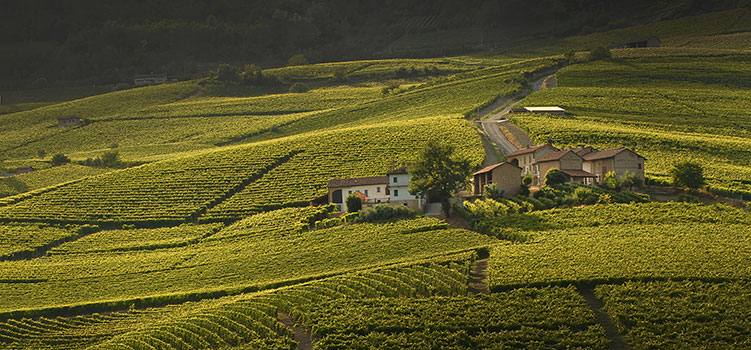 Purists at heart, the Chiarlo family creates their wines exclusively from indigenous grape varieties including Barbera, Cortese, Nebbiolo, and Moscato, and over the years has helped lead Piedmont's quality revolution in both winemaking and farming practices in through leadership, innovation, and dedication to their craft. "Preserving this land for the future is vey important to us," says Stefano Chiarlo, who oversees wine production, "therefore we helped establish standards of quality for the DOC winemaking laws in Piedmont, and spearheaded green harvest practices, for all of Italy, in 1984."
Never comfortable to rest on their laurels, The Chiarlo family is constantly working to find the next big wine and as such has heavily invested in the region's new Nizza DOCG (Denominazione di Origine Controllata e Garantita, Italy's highest level of quality for wine), in order to build that new winemaking appelation's reputation for quality in the marketplace.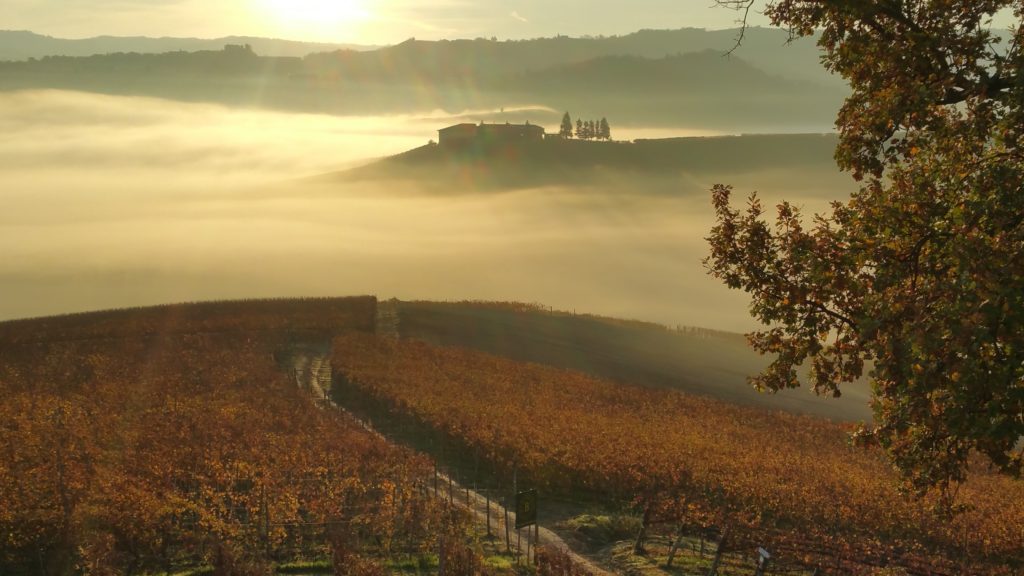 The following selection of Michele Chiarlo wines are a good way to get to know this iconic brand, which is imported into the United States by Kobrand Wine & Spirits.
Le Marne Gavi DOCG: Made in the Gavi region, and area known for its white wine production from the Cortese grape variety, Le Marne shows citrus and mineral notes and jumps on the palate with lively acidity. A perfect white to pair with food.  SRP: $19.99
Cipressi Barbera Nizza DOCG: Grown at Le Court, the Chiarlo estate in Barbera, this 100% Barbera wine is shows classic notes of ripe cherry and red fruit through a lush, yet elegant palate. A perfect wine for lighter meats and pasta dishes. SRP: $29.99
Tortoniano Barolo DOCG: 100% Nebbiolo from Piedmont's pre-eminent wine region, the Tortoniano Barolo spends 2 years in barrel and one year in bottle prior to release. A highly structured wine, yet also quite approachable at an early age, this wine is a wonderful food wine perfect for pairing with meats, pastas, and aged cheeses. SRP: $59.99



Listen to The Connected Table SIPS with Stefano Chiarlo. Click this image and stream: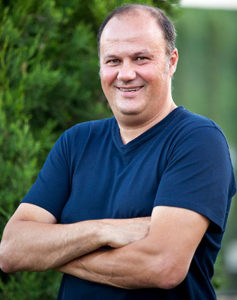 Costières de Nîmes was a pleasant discovery for us, far from the more heavily visited areas of Provence to the east. The Rhône Valley's southernmost wine region sits on a plateau that stretches north from the Camargue delta region 50 kilometers to the south. From some hilltop vineyards, one can see Arles and an outline of the Frank Gehry-designed The Luma Arts Foundation complex, which has turned that ancient Roman city in Provence into a contemporary arts destination.
Vines have been cultivated in Costières de Nimes since the days of Ancient Greece. The area was also occupied by the Romans after they conquered Egypt during the Battle of Actium in 31 BC. The region and its namesake city, Nîmes, display the imagery of a crocodile tied to a palm tree, from the pavement to street signs and a few whimsical sculptures positioned here and there. The crocodile represents Egypt, and the palm tree is the Roman symbol of victory.
Winemaking began to flourish in Costières de Nîmes during the Middle Ages, and the region's wines became the preferred selection of the 14th century Papal Court when it occupied nearby Avignon. A boost to the viticultural economy occurred in the 20th century with the construction of both Pierre-Paul Riquet's Canal du Midi and Philippe Lamour's Canal du Bas-Rhone which facilitated transportation from the region.
An AOC since 1986, Costières de Nîmes' production is red wines (55%), rosés (40%) and whites (5%).  Mourvèdre, Grenache, Syrah are the dominant red varieties (80%); Carignan and Cinsault are also used.  Grenache Blanc, Marsanne and Roussane are the three main white grapes, followed by Bourboulenc, Clairette, Vermentino and Viognier. The reds are sultry and juicy with dark blackberry and raspberry notes; the whites are aromatic with a touch of salinity thanks to the region's proximity to the sea and the soil. The climate is classic southern France – Mediterranean Sea breezes mixed with cool mistral winds from the north and more than 200 days of sunshine.
Our first visit was Château L'Ermitage. Owner Jérôme Castillon took us on a bumpy open-air Land Rover ride through the hilly vineyards to shows us the rocky terrain covered with garrigue, a particularly herbaceous Mediterranean brush that contributes to the earthy herbal character of the wines. Thanks to the proximity to the Rhône River, the soils are alluvial with many large pale pebbles, called galets.
Later, we visited more, even steeper and stonier vineyards at Château Mourgues du Grès with proprietors François and Anne Collard. At their winery, which was formerly a convent, a few other local producers joined is to present their wines along those from  Château Mourgues du Grès, including: Maison Gabriel Meffre (Anthony Taylor), Mas des Bressades (Cyril Marès), Château de Valcombe (Nicolas Ricome).
In the evening, we had dinner in Nîmes at the Museum of Roman History (Musee de la Romanate. This is a newer addition to the city of Nîmes. It's a large modern edifice with a rooftop garden and panoramic views. We read in this article that the architect, Elizabeth de Portzamparc, was inspired by a Roman toga. We're not sure we get that, but we did get – and enjoyed -the wines we tasted during our meal at museum's on-site restaurant, La Table du 2 Brasserie by Michelin Star-rated Chef Franck Putelat. The producer was fourth generation vintner Fanny Boyer, Château Beaubois.
If you visit the region, seeing Nimes is a must. It's filled with history and is nice for strolling and spotting crocodile and palm tree imagery. Among the many sights of historical note, two include the giant ancient amphitheater that now serves as a performance space and the Maison Carrée,  a completly preserved the ancient Roman.  More on visiting Nimes here.
We also recommend this article in The New York Times Style Magazine
A note on where we stayed…We loved our two nights at Domaine des Clos, a boutique apartment-hotel with spacious grounds and very good food (we had three meals there- breakfast, lunch and dinner). Owners Sandrine and David Ausset, both native to the region, left their corporate jobs in Paris to spend years renovating this abandoned 18th century wine estate. Sandrine is passionate about ayurvedic health and offers special retreats.
Our trip was arranged by Inter-Rhône which has very helpful information on the Rhône Valley on its website www.vins-rhone.com. We also recommend www.costieres-nimes.org
Listen to The Connected Table SIPS with Anthony Taylor, Maison Gabriel Meffre, who discussed the region and styles of wine produced in Costières de Nîmes.
When July rolls around we're longing for Provence and the chance to see first-hand the lavender fields in bloom. It's still on our bucket list; we are not there, yet, despite having spent many lazy, late summer days visiting friends with a house in the Luberon, usually end of August.
But we did have the chance to visit the Luberon in May for a wine tour of  the southern Rhône Valley.  The weather was warm and dry, and the buses of tourists were still thankfully sparse. May is a great time to visit before the summer crowds descend. While no lavender was in bloom, there were other blooms a'plenty. Numerous bright yellow wildflowers and orange-red poppies dotted the fields, and orchards were filled with blooming cherry and apricot trees. 
We've always been fans of Luberon rosé and tasted several during our visit. The styles of rosé in the Luberon can range from crisp and dry to fresh, floral and fruity. Rosé wines make up 52 percent of the wines produced in AOC Luberon  which was established in 1988. Vines are cultivated on both sides of the Luberon mountain range at altitudes of 200 to 350 meters above sea level, which adds to the wines' freshness and purity. The primary red grapes are Syrah, Grenache and Cinsault. Soils vary from limestone to clay and red sand. The climate can range from Mediterranean warm to very cool nights.
It was a busy market day when we visited the Maison de la Truffe et du Vin du Luberon in Ménerbes to taste a few wines with three producers:  Lionel Bourgue, Domaine de la Citadelle,   Nathalie Margan, Chateau La Canorgue,  Christian Ruffinatto, Domaine Ruffinatto –  and Thomas Montagne Chateau de Clapier.
Later in the afternoon, we visited Château la Canorgue, a 200-year-old family-owned estate in Bonnieux and the first organic winery in the Luberon.  The winery is run Jean-Pierre Margan with his daughter, Nathalie, who represents the fifth generation of winegrowers. The wines are recognized around the world.
Visitors may recognize Château la Canorgue from Filmmaker Ridley Scott's "A Good Year," with Russell Crowe and Marion Cotillard. The estate was a setting for the movie. The Margans remain nonplussed when tourists arrive to snap fan photos. While at Château la Canorgue, we sat down with Nathalie Margan to discuss  styles of AOC Luberon rosé, which range from a light pink grapefruit citrus squeeze to an embrace of fresh wild strawberries.
AOC Luberon Rhône Valley rosés possess terrific minerality, complexity and freshness. These are not one-size-fits all rosés; a sense of place is evident from the first sip. You just want to reach for a salad chèvre chaud, fresh grilled seafood with vegetables drizzled with local olive oil.
Listen to our visit with Nathalie Margan on The Connected Table SIPS. Click image below or visit iHeart.com at this link
For more information on AOC Luberon and its wines, visit: www.vin-luberon-fr